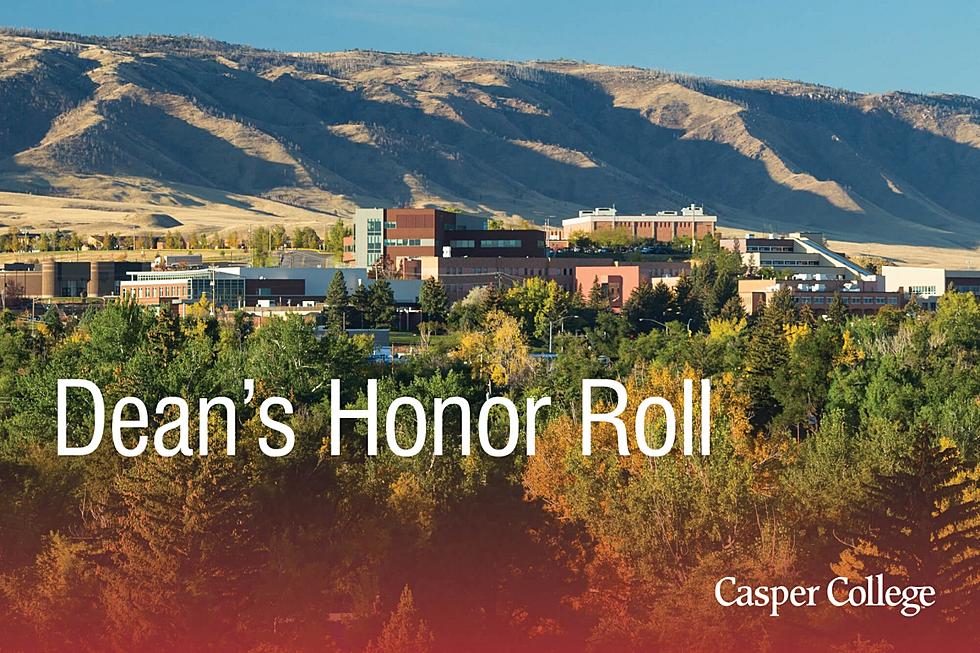 Fall 2022 Dean's Honor Roll At Casper College
Casper College
Casper College officials have released the names of the 391 students who made the Dean's Honor Roll at Casper College for the 2022 fall semester. The recognition is for part-time degree-seeking students, those taking six to 11 credit hours per semester, and nondegree-seeking full-time students taking a minimum of 12 credit hours. To qualify for the award, a student must have a semester GPA of 3.5 or better.
Students named to Casper College's Dean's Honor Roll, ordered according to their hometowns, follow. Wyoming students are listed first, followed by students with out-of-state hometowns listed alphabetically by state, then hometown.
Wyoming
Afton: Kyle Odde.
Bar Nunn: Kyla Alvey, Afton Barr, Eden Bertagnole, Rylee Bracken, Sarah Brown, Brayden Busch, Shannon Colgan, Daniel Garbutt, Amber Guseman, Cortnie Hardee, Angela Martin, Olivia Mendoza, Jennifer Middleton, Stephen Myers, Sofia Newsome, Dylan Produit, and Ansley Smoll.
Big Horn: Ryan Johnson.
Big Piney: Holli McAdams and Courtney Meisner.
Boulder: Elizabeth Wood.
Buffalo: Riley Fowler.
Burns: Rebecca Derner.
Casper: Gerardo Alatorre, Madalyn Amole, Kelsey Anderson, Kennedy Anderson, Kirk Anderson, Zachary Archuleta, Cristopf Atkinson, Annabelle Bachler, Marquis Barnes, Aelorya Barnett-Grizzell, Kyla Barrett, Amanda Bender, Callisto Bennett, Dylan Bennett, Bryndal Bertagnole, Mike Bingle-Davis, Shelby Blackwelder, Josiah Blom, Cindy Bolan, Morgan Borino, Nathaniel Bouley, McKenzie Brewer, Jace Brezina, Nathaniel Britt, Cory Brown, Makayla Brown, Amanda Buckert, Michael Burk, Madison Burnett, Marcela Caballero, Brooklyn Calkin, Chance Campbell, Fernando Carbajal, Liydiyya Casiano, Tara Catellier, MacKenzie Cawley, Jacqueline Chimbo, Aubrey Clark, Sierra Clark, Bruce Clifton, Anthony Cobb, Allison Colburn, Chelsea Collver, Shawn Condelario, Catherine Conway, James Cooler, Tiffani Cooper, Jessica Cordova-Lopez, Megan Cormier, Eric Cornia, Jessica Cowen, Britney Crimm, Marley Daugherty, Madilyn Davenport, Keiliane Davis, Jack Dawson, Clarissa De La Torre, Jalene Detillion, Allison Dick, Alexis Dvarishkis, Rebekah Echols, Clara Eggemeyer, Theresa Enders, Mandie Falcon, Annelise Fandal, Kamila Fehringer, William Fielder, Rachel Fike, Galen Fleming, Britney Force, Olyn Forsman, Savanah Fowles, Jonathon Franklin, Albert Frazier, Nicholas Frimml, Breyannah Garfield, Alexander Garrett, Jenna Gauger, Lisa Gentile, Marissa Gonzalez, Haley Graham, Jayme Grange, Ethan Green, Megan Griffin, Cassandra Guenther, Tucker Hansen, Bailee Hanson, Kolten Harmsen, Jacquelyn Harris, Dean He, Katelyn Heard, Katherine Hede, Valerie Hedlund, Bobbi Herbst, Gabriel Hernandez, Miranda Hernandez, Georgina Herrera-Machuca, Logan Hilde, Karley Hoelscher, Emma Holmberg, Maddox Houston, Freedom Howell, Katrina Huff, Kristine Huff, Michael Hughes, Robert Jamieson, Corben Jessen, Danielle Jhanda, Angelica Johnson, Mark Johnson, Shelby Johnson, Judith Johnson, Bridger Jones, Logann Jones, Romina Juarez, Christopher Kalb, Andrew Kalus, Carli Kalus, Wyatt Kammerer, Gabby Kavaliauskas, Ashley Kelley, Patricia Kerr, Kendall Kidder, Paityn Kindel, Sierra King, Jennifer Knifer, Sara Lamb, Cynthia Landon, Paysen Larsen, Mercedes Latham, MacKenzie Laufer, Elizabeth Lewallen, William Lewis, Kayla Likes, Emily Linaman, Taylor Lindemann, Elizabeth Lindsay, Cassandra Lutterman, Isaak Mamot, Briahnna Manning, Emily Manville, Harry Martin, Daniel Mattern, Tabbitha May, Kori McCarty, Kellen McCoul, Kyler McIntyre, Sierra McOmie, Roger McPherson, Elise Mellendorf, Veronica Mojica, Christopher Mongar, Alexei Moreno, Bryce Muller, Dominica Mundell, Alexander Nartey, Natashua Natay, Lydia Neal, Luna Nelson, Colter Nichols, Holly Niemi, Grant Nipper, Ravyn Noecker, Lorraine Noguera, Katie Nowicki, Maisynne O'Bryan, Cassandra Ocana, Tavia Ossa, Bailey Owens, Dara Palmer, Jamie Patsie, Anjilia Pereda, Elsa Perry, Emma Peterson, Myah Phillips, Devan Phipps, Grace Pieper, Chelsey Pike, Riley Plum, Bradley Pousha, Heather Pridgeon, Christopher Putter, Carter Quin, Gracelyn Ransom, William Ratchford, Eli Realing, Briley Reichenbach, Rachel Retherford, Hunter Rezanina, Charlee Rideout, Abigail Robberson, Lily Roberts, Ellencia Roldan, Nat Ross, Leeanna Rowland, Bianca Rueter, Sydney Russ, Bethany Sagerer, Amy Sale, Matthew Sanders, Rachel Savage, Sydney Schadegg, Waylon Schalau, Lindsey Scott, Shari Shaw, McKenna Shipper, McKenzie Shrum, Deborah Shutts, Timberlyn Slaugh, Trey Sorell, Ella Spear, Isabeau Staight, Jessica Starr, Tanesia Sternhagen, Anthony Sturt, Jasper Sullivan, Grant Taylor, Hannah Taylor, Jaysie Thomas, Tristy Thomas, Elayna Thorsell, Ethan Trubey, Sophia True, Taylor Tucker, Yonathan Valencia, Raesha Vanderhoef, Brittany Vaughn, Eralys Wallace, Ross Wallis, Charlotte Ward, Benjamin Watts, Nolan Wayte, William Weader, Caroline Weiss, Austin West, Amanda Whitaker, Madison Williams, Eliza Wilson, Grace Wilson, Lee Wilson, Sierra Wilson, Brooklynn Wolden, Karli Woodruff, Makenna Woods, Taylor Wuorinen, Jaden Yeager, Jinyu Yin, Scott Younkins, and Britney Zumbrennen.
Cheyenne: Alexia Barttels, James Blackman, Scott Burgess, Jacob Carbaugh, Abigail Causey, Lucas Drake, Adam Fiechtner, Adrianna Gallegos, Justin Groskopf, Karen Higgins, Daniel Jimenez, Avary Johnson, Don Liberty, Noah Lujan, Kristen Munoz, Damian New, Randolph Page, Jared Reed, Steven Schade, Madison Schuler, Chandler Smith, Colton Sobieski, Joshua Sprouse, Shelly Thorup, Bridger Voss, David Wells, and Mae West.
Douglas: Lauren Gates, Dustin Holkan, Cheyenne McHale, and Patricia White.
Evanston: Leroy Cavazos.
Evansville: Kathleen Arbogast, Sara Beer, Emily Daniels, Nicholynne Garbutt, Cresta Jennings, Joshua Kroeker, Bryce Locklin, Tesla McConnaughey, Jackson McLean, Megan Muhlenbruch, David Payne, Rachael Payne, Karen Sandoval, and Izabelle Zimmerman.
Gillette: Andrew Leslie, Ethan Lock, and Jacob Peterson.
Glenrock: Richard Alexander, Jeannie Boord, Tucker Bopp, Kenneth Craig Brook Eldred, April Hiser, and Dusty Stoddard.
Green River: Larry Davis and Dewayne Nash.
Greybull: Renee Chambers and Brenna Stanley.
Guernsey: Jonah Girard.
Jackson: Thomas Basore, Thomas Biciolis, and Matthew McGee.
Laramie: Marissa Hessell and Nathaniel Hulett.
Lovell: Trace Murphey.
Lyman: Jacob Reid.
Midwest: Jacquileen O'Brien.
Mills: Thatiana Argueta, Kayla Baker, Lauren Burgardt, Chase Coo, Sarah Crook, Ramona Fernandez, Kayla Haley, Jessica Isaacs, Jenny Jensen, Brook Lindstrom, Mary McMillian, Andrea Norris, and Abigail Stclair.
Pine Bluffs: Brenna Crawford.
Pinedale: Megan Anspach.
Powell: Lucy Jane Crimm and Benjamin Wetzel.
Rawlins: Madeline Mika and Mickie Otto.
Riverton: Brittany Dwyer.
Rock Springs: Thomas Hafner.
Rolling Hills: Kylan Montgomery.
Sheridan: Joseph Austin, Tasia Fitzpatrick-Danforth, Cory Kiser, Jacob Kraft, Wylan Lee, Aspen Malkuch, and Phillip Perry.
Shoshoni: Cheyenne Thompson.
Sinclair: Savannah Morrow.
Thayne: Jd Pickens.
Torrington: Noah Decker.
Wheatland: Austin Huffer.
Wilson: Thomas Cranston.
Worland: Ashley Schriber.
United States
Colorado
Eaton: Hunter Payseur.
Idalia: Titus Glanz.
Johnstown: Taylor Mills.
Connecticut
Portland: Wendy Rawlings.
Florida
Punta Gorda: Kurt Edwards
Idaho
Caldwell: Desiree Gray-Mefferd.
Montana
Kalispell: Elizabeth Sullivan.
Nebraska
Bartley: Logan Greenlee
Broken Bow: Leslie Wistisen.
Morrill: Sydnee Strain.
New Mexico
Fort Sumner: William Schade.
South Dakota
Rapid City: Hope Weisser.
Texas
Nacogdoches: Alison Clarke.
A Walk Through the Tobin Visual Arts Center
National Historic Trails Interpretive Center