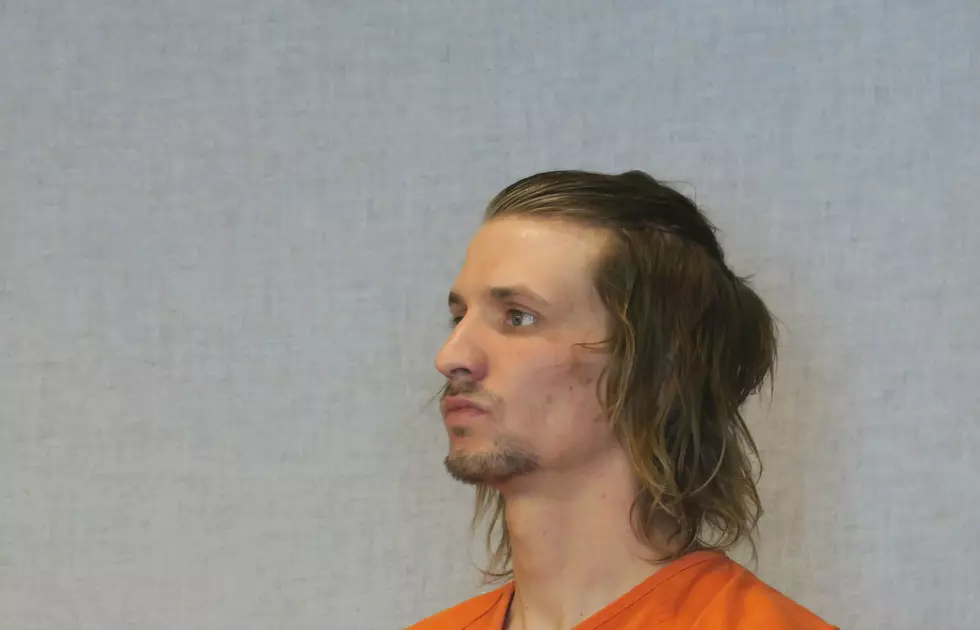 Detective: Casper Man Charged With Murder Had Stolen From Mother
Tom Morton, Townsquare Media.
In a video shown to jurors Wednesday, a Casper man is viewed sitting in an interview room at a county jail in northern Colorado.
Two Casper police detectives walk in.
"My name's Mitch and this is Adrian," one of the detectives says. "So it's been a little chaotic. Can you imagine why we came here?
"We've come a long way. We're from Casper."
After a few minutes of conversation on irrelevant topics, a detective says, "Tell us why we're here, Andrew."
Andrew Steplock replies, "I killed my mom."
Steplock is charged with second-degree murder, felony murder, aggravated burglary and possession of a deadly weapon with unlawful intent in the shooting death of his mother, Deborah Steplock. Wednesday marked the third day of testimony in the five-day jury trial. It is expected to conclude Friday.
During Wednesday morning's proceedings, a Casper police detective testified that he and another detective traveled to Larimer County, Colorado to interview Andrew Steplock the day of the shooting.
Police tracked Andrew Steplock's phone to northern Colorado. The Larimer County SWAT team arrested him at roughly 11 p.m. Feb. 26 after he was found sleeping in his car.
Casper police detectives Mitch Baker and Adrian White interviewed Andrew Steplock not long after his arrest. The conversation is akin to two mental health counselors sitting with a client more than it is two cops investigating a homicide.
The detectives tell Andrew Steplock that the shooting is "a unique situation." White relates to Andrew Steplock that he had a rough upbringing.
"It takes a lot of courage for a man to look at two guys and say 'Hey, I killed my mom,'" one of the detectives tells Andrew Steplock.
During Tuesday's testimony, Albert Steplock, Andrew Steplock's father, testified that his son grew increasingly distant from his family. Detectives told Andrew Steplock they understood his anger with his family and that he reached a breaking point.
Baker would go on to testify that he and White were using rapport techniques to make Andrew Steplock more comfortable discussing the incident.
Andrew Steplock had his dog in the car with him when he was arrested. He asks multiple times throughout the interview how Puff is doing. White assures him that the dog fell asleep in a patrol car and is in safe hands.
Andrew Steplock told them that he thought weeks had gone by since he shot Deborah Steplock.
"It's only been 24 hours, brother," Baker says.
In the video, Andrew Steplock describes "zoning" and driving around Casper before he decides to go to his parents' house. He tells Baker and White that he went there to steal money so he could "start a new life." Andrew Steplock didn't think his parents were home.
Court documents indicate the shooting stemmed hours after Deborah Steplock took Andrew Steplock's key off his keyring and replaced it with a dummy key. Asked why the rules changed, Baker testified that investigators learned Deborah Steplock told her son he was no longer welcome at the home without asking first because he was stealing money from her purse.
Andrew Steplock tells White and Baker that when he got to the house, his key didn't work. So he goes around to the back door, breaks the window and reaches through to unlock the deadbolt. He cut his knuckle in the process.
He walks into the house and sees his mother in the kitchen. Deborah Steplock asks her son, "What are you doing here?"
"Next thing you know, I put a gun to her head and I shot her," Andrew Steplock told detectives. "She saw me and I shot her."
Immediately after the shooting, Andrew Steplock said he knew he needed to get out of the house. He ran out and immediately started driving to Colorado.
One of the detectives asks Andrew Steplock if he remembered family members texting him following the shooting. His dad and sister sent him messages telling him he needed to get to the hospital. Andrew Steplock told detectives he thought it was a setup, so he didn't reply.
"She's dead, right?" he asks.
A detective informs him that Deborah Steplock did pass away.
Later in the interview, Steplock says he can't believe that he shot and killed his mother. He tells Baker and White that he is angry at himself for the shooting. He also says he checked another room for his father. Had his father been in the room, Andrew Steplock said he would "probably shoot him too."
Andrew Steplock described the incident as lasting 30-45 seconds, calling the shooting "just spur of the moment.
"It just happened," Andrew Steplock told detectives. "I don't know why I did that."
At some point after the interview, Baker and White searched Andrew Steplock's vehicle. In it, they found a .40-caliber Smith and Wesson handgun wrapped in a hoodie.
Baker also testified that Steplock described to "copious amounts of marijuana" use to investigators, though he was not under the influence at the time of the homicide.
Before the end of Wednesday's proceedings, Natrona County District Court Judge Daniel Forgey explained that the trial is getting to the stage where attorneys will need to discuss issues out of their presence.
Forgey didn't elaborate as to why. However, in the minutes after jury selection Monday, attorneys disagreed on whether some autopsy photos should be admitted as evidence. Natrona County District Attorney Daniel Itzen argued that they were necessary for a forensic pathologist's testimony. Defense attorney Joseph Cole disagreed and argued that they would merely serve as shock value for prosecutors.
The trial will enter its fourth day at 9:30 a.m. Thursday.
Enter your number to get our mobile branded app