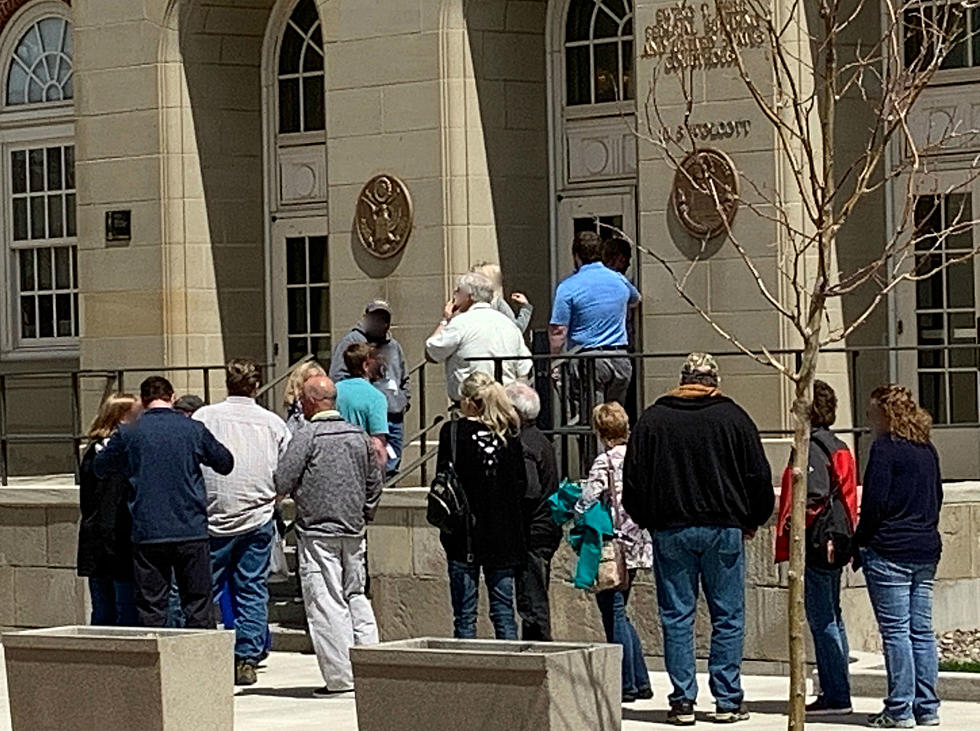 Jury Selection Starts for Trial of Former Casper Doctor and his Brother
Tom Morton, Townsquare Media
The trial of a former Casper doctor and his brother accused of running a multi-state prescription drug conspiracy has begun after nearly two-and-a-half years; nearly 700 court filings; one indictment; two superseding indictments; five defendants; five not guilty pleas; three guilty pleas; two remaining not guilty pleas; and the subtext of the national opioid epidemic.
Jury selection for the trial of Shakeel and Nabeel Kahn began in U.S. District Court in Casper before Judge Alan Johnson began Thursday.
Shakeel Kahn faces 21 counts including the original count conspiracy to dispense and distribute oxycodone, alprazolam, hydromporphone and carisoprodol; conspiracy to distribute certain prescription drugs resulting in death; possession or use of firearms during a drug crime; unlawful use of communications devices; and money laundering.
He also is charged with operating a continuing criminal enterprise, which upon conviction is punishable by a minimum of 20 years of imprisonment, according to court records.
If convicted of all counts, he faces between 45 years and life imprisonment.
Nabeel Kahn, if convicted of conspiracy to distribute certain prescription drugs resulting in death and brandishing a firearm during a drug crime, faces 27 years to life imprisonment.
Wednesday, Shakeel Kahn's wife Lyn Kahn pleaded guilty to one count of conspiracy to dispense and distribute oxycodone, alprazolam, hydromporphone and carisoprodol.
Two other defendants -- Shawnna Thacker and Paul Beland -- have pleaded guilty and their sentencings will occur this summer.
Johnson said the attorneys expect the trial to last three weeks, but added he thinks it may last less time than that.
About 85 potential jurors filled the benches on the courtroom of the second floor of the Ewing T. Kerr Federal Building and Courthouse, 111 S. Wolcott.
They listened to Johnson as he informally explained proper behavior in the courtroom [no gum, candy, soda, etc.]; how potential jurors can request a sidebar if they want to talk about their health and if it would affect their ability to serve; that anyone who is facing a charge of a felony or is a convicted felon may not serve on a jury; and how the jury selection process known as "voir dire" is a way for the attorneys and the judge to get to know and to select jurors.
Johnson said some potential jurors may face resistance from their employers, but told them if their employers try to forbid them from serving, the employers could be prosecuted.
He also discussed the nature of bias, how everyone has it, and how jurors must set aside  their biases about race, age, gender, sexual orientation and the like to reach a just verdict. He also showed a video from the federal court of the Western District of Washington called "Understanding the Effects of Unconscious Bias."
Johnson asked each of the potential jurors about where they lived; whether they'd served on a jury before and, if so, what kind of case it was; histories with alcohol or other substance abuse in their families; whether they owned firearms; and what media they used.
They came from Casper, Douglas, Gillette, Buffalo, Sheridan, Dayton, Thermpolis,  Basin, Otto [population 50, the potential juror noted], Upton, and as far away as Powell.
About two-thirds of the potential jurors said their families had histories of alcohol and substance abuse including prescription drugs. One man broke down crying because of the toll it had on a close relative. Others said they had relatives who died from alcoholism, drug abuse, and some of those deaths were suicides.
Jury selection resumes Friday morning.