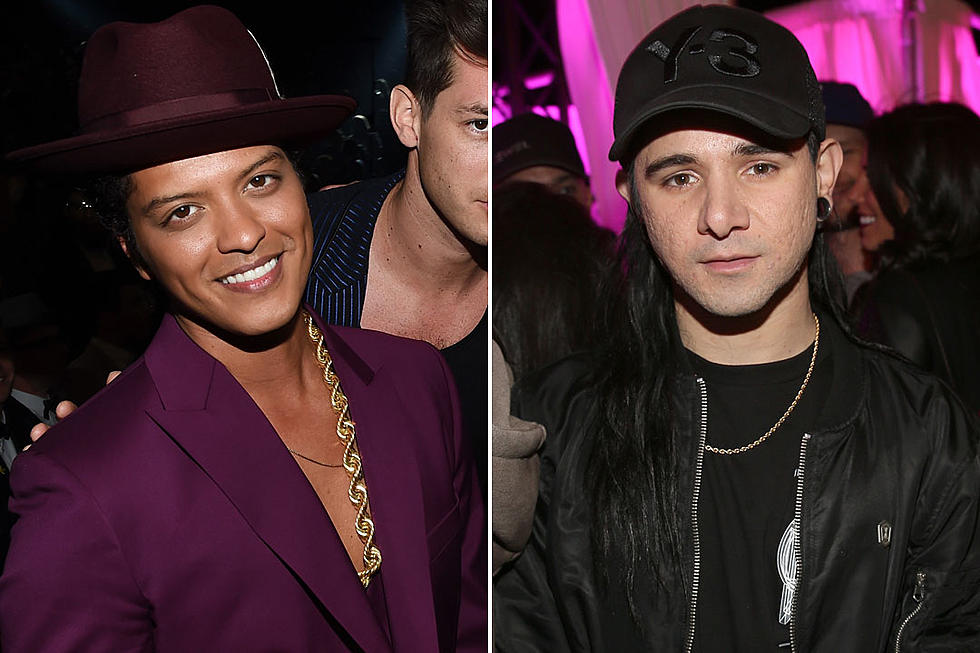 Skrillex + Bruno Mars Are Collaborating On 'Next Level' Music
Larry Busacca / Jesse Grant, Getty Images
Sonny Moore has come a long way from his emo beginnings as frontman for post-hardcore band From First to Last to his career as DJ-producer Skrillex. According to a recent interview, he's looking to evolve sonically once more -- and this time he's enlisted the help of Bruno Mars.
"I'm actually working with Bruno Mars right now. I'm not going to give specifics of what it sounds like, but what we're doing is so f—king different, awesome and next level and sounds like nothing else that's happened before," he said in an interview with Billboard.
Skrillex is no stranger to collaborations. His 2015 work earned him a Best Dance Recording Grammy with the Jack U record "Where Are U Now" and a No. 1 hit with Justin Bieber's "Sorry." He says working with another artist pushes him out of his comfort zone and past his own musical boundaries.
"Every time I get in the studio with somebody else and collaborate, that's when I always have revelations and learn about stuff. And I just love stepping outside of what I know and there's no other music position that can do that," Skrillex continued.
"Like as a singer, you're in a band. I think what we are musically in our head space, there's no other way. I can step outside my box anytime and that wasn't possible before. I guess that's aligned with the exponential growth in technology and knowledge, the fact that everything there is so accessible now, you can just f—ing choose your own destiny. Goosebumps that sh—t. (creepy voice) Choose your own story."
Head over to Billboard to read Skrillex's full interview.
See What Celebs Looked Like When They Dropped Their First Album