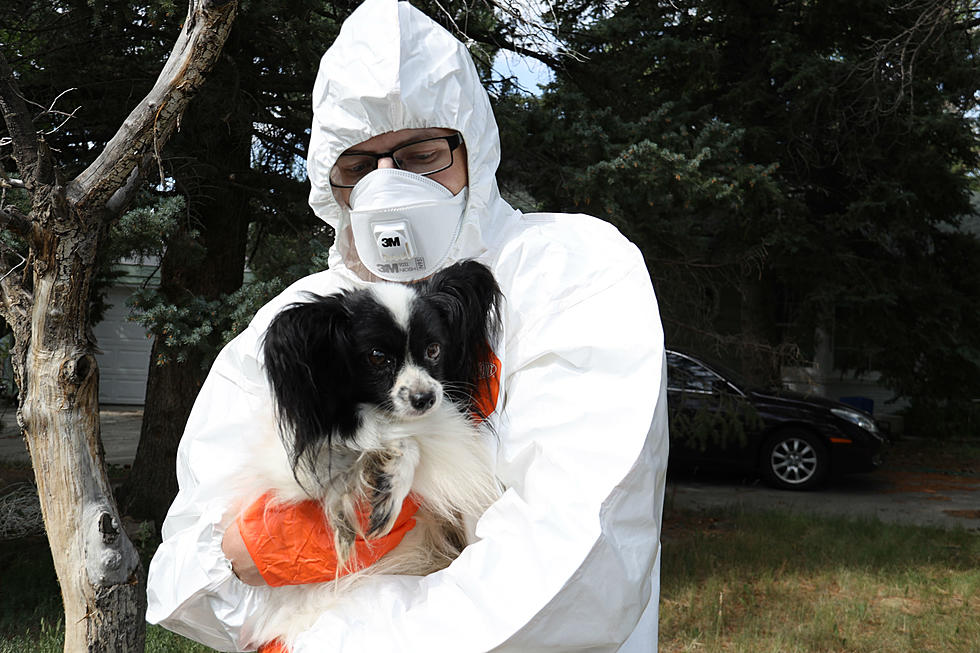 Metro Animal Shelter Needs Your Help After the Rescue of 65 Animals
Casper Police Department
After rescuing 42 dogs, 14 cats, eight exotic birds and one chicken at a Casper residence on Wednesday, the Casper Police Department and Metro Animal Shelter needs your help.
Meanwhile, no charges have been filed yet against the person in the 1200 block of West 23rd Street who allegedly hoarded the animals, Casper Police Department spokeswoman Rebekah Ladd told K2 Radio late Thursday afternoon.
"At this point, it's still under investigation," Ladd said. "We do expect charges to be filed, we just don't have any information on it at this point."
Officers from several agencies -- Casper police, animal protection, community service and Casper Fire-EMS -- executed a search warrant on the residence at 11:30 a.m. Wednesday.
Many of those officers wore hazardous materials suits, and they and others worked nine hours to remove the animals, Ladd said in a prepared statement.
The animals were taken to the Metro Animal Shelter, 2392 E. Metro Road, for temporary housing and care, and shelter employees worked into the evening to receive the animals
These animals rescued are not currently available for adoption due to the ongoing investigation, shelter manager Tory Walsh said in a prepared statement.
The shelter already was caring for 152 animals before receiving the 65 rescued animals, Walsh said.
"Much of our time has been spent today with questions we don't have answers for; we are caring for these confiscated animals as evidence at the request of the CPD," she said. "We all need to be patient and allow the courts to hear the case; the animals are safe and secure now."
In the meantime, the community can help the shelter in several ways, Walsh and Ladd said.
Many people have called the shelter offering help or asking what they can do, Ladd said. But the overworked staff is not able to answer all the calls, so they recommend the following:
-- The best and most effective way to help in this situation is to adopt the animals currently available for adoption at the shelter.
Right now there is no adoption fee for cats.
Dogs have a $50 adoption fee along with a refundable $100 spay and neuter deposit. All dogs come with a pre-registered microchip, their first set of vaccinations and a city license. Dogs that have been at the shelter for at least thirty days have no adoption fee.
-- If you are unable to adopt a pet, the shelter requests the following items:
Bleach.
Canned cat and/or kitten food: Red Flannel cat food and Nutrena Loyall adult maintenance dog food can be purchased at Noland Feed.
Dish sponges.
Heartland wood pellets can be purchased at Sutherland's.
Dog and cat treats Items can be dropped off at the shelter during normal business hours: noon to 6 p.m. Tuesday through Friday, and noon to 4 p.m. on Saturday and Sunday.
-- Sponsor an adoptable animal by paying for the adoption fee, spay/neuter costs, and vaccinations to help make the animal more marketable for adoption. If you are interested in sponsoring an animal, please contact Metro Animal Shelter at (307) 235-8398.