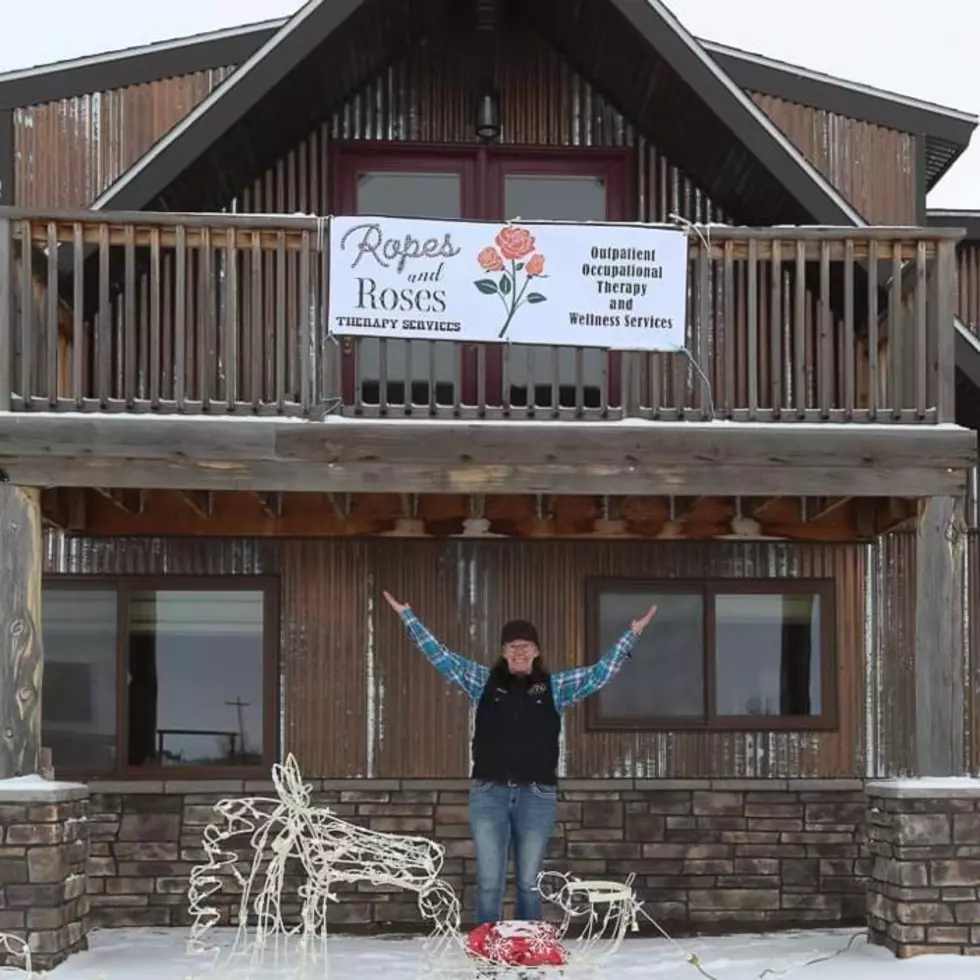 PHOTOS: Horse Therapy Rest and Relaxation Lodge Officially Open in Casper
Photo Courtesy of Ropes & Roses Therapy Services
Ropes & Roses Therapy Services, an occupational therapy and equine assisted therapy practice, has officially opened its Rest and Relaxation Lodge in Casper.
That's according to a Facebook post from the practice's founder and owner, Karol Santistevan.
Santistevan, the co-founder and former Executive Director of Reach 4A Star Riding Academy, took to social media to announce the grand opening of of the 36-acre campus that specializes in equine assisted therapy.
"We are so excited that the R&R Lodge at Ropes & Roses Therapy Services is ready!" Santistevan wrote on her Facebook page. "We have availability now to schedule groups for after-school, 1/2 day, full day or overnight retreats & programs designed specifically for your group by Karol Santistevan MOT, OTR/L."
According to the Ropes & Roses website, the mission statement of the therapy practice is "to provide occupational therapy services with an emphasis on mental health through direct services and specializing in hippotherapy and equine-assisted therapies. Ropes & Roses Therapy Services, LLC serves individuals and groups experiencing challenges in their lives due to disability or circumstances."
The therapy service has four essential core beliefs:
RESPECT to all clients and treat others appropriately
EXCELLENCE to client and family-centered care
TRUST in ethical care to ensure quality services
COLLABORATION among clients, family members, employees, and other professionals
Ropes & Roses utilizes Mental Health Occupation Therapy, as well as equine assisted therapy.
"Occupational therapy has a rich history of promoting mental health in all areas of practice through the use of meaningful and enjoyable occupations (Meyer, 1922)," the Ropes & Roses website states. "The aim of occupational therapy services in mental health is to help all individuals develop and maintain positive mental health, prevent mental ill health, and recover from mental health challenges in order to live full and productive lives."
One of the ways the practice does that is by utilizing equine assisted therapy.
"This is therapy provided by an OT, OTA, PT, PTA, SLP, LCSW, or LPC using interactions with horses to facilitate client centered goals for those specific professions," the website states. "The term 'hippotherapy' refers to how occupational therapy, physical therapy and speech-language pathology professionals use evidence-based practice and clinical reasoning in the purposeful manipulation of equine movement as a therapy tool to engage sensory, neuromotor and cognitive systems to promote functional outcomes. Best practice dictates professionals integrate equines into the patient's plan of care, along with other therapy tools and/or strategies."
This type of therapy is designed, per their website, for "anyone who struggles with achieving full functionality in their everyday life. If you have lost the ability to accomplish things that you used to do well, then this is for you. If your satisfaction with the everyday occupations that you perform has diminished, this can be of help to you."
In short, Ropes & Roses is for anybody who needs it. It's not even just for those dealing with mental health issues.
"Much of our practice is supporting clients with mental health concerns, however, occupational therapy can help people regardless of the physical or emotional challenges they face in their life,"  Santistevan wrote. "I have a heart for serving those who are underserved in our community.  Occupational therapy is appropriate for anyone who struggles with achieving full functionality in their everyday life."
The practice is open for individual or group sessions, whether it's one day at a time, or multi-day retreats.
"We are on a 36-acre campus with 4 buildings and plenty of room to incorporate horses and other animals into our treatment strategies," the website states. "The clinic is 2400 square feet and the lodge is a 3400 square foot home with 4 bedrooms, 3 baths and a state of the art kitchen. The lodge allows us to do some multi-day retreats and trainings for clients, professionals and the community. Eventually, part of the acreage will have a nature walk & opportunities that include a meditation garden near an existing pond area. We are east of the city in a peaceful, tranquil place. The lodge has a 2 story living area with floor to ceiling windows, a spectacular view of Casper mountain and unhindered views to see spectacular sunrises and sunsets."
For Santistevan, the opening of this practice has been a dream come true.
K2 Radio News previously reported that she has been "helping people with special needs since 2002 after becoming a ceritfied Special Olympics Equestrian Coach, a Level 2 Western & English Certified Horsemanship Association Instructor."
Read More: All The Pretty Horses: Ropes & Roses Celebrates New Clinic
She was also awarded the PATH International Region 10 Instructor of the Year award in 2007.
"Her education combined with years of experience, holistic, nature based approach allows her to connect deeply with her patients," K2 Radio News Director Kolby Fedore wrote. "By getting back to the grassroots of what occupational therapy really is, Satistevan's approach is grounding herself and the horses to engage as a team to support her clients."
Santistevan and her team are dedicated to providing Wyoming residents an opportunity to rest, relax, and find the best versions of themselves by experiencing all that Ropes & Roses Therapy Services has to offer.
Ropes & Roses Open House, Therapy Services with Horses