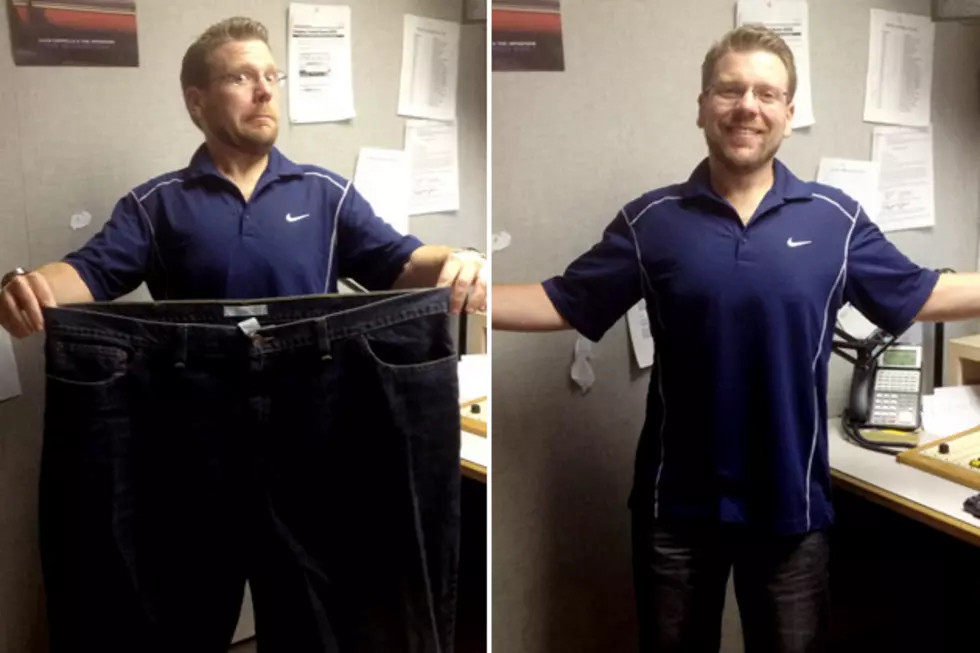 Donovan's Top 5 Apps To Help Lose Weight
Donovan's Old Pants (Photo by Tom McCarthy, Townsquare Media)
Several months ago, I hit a pretty big milestone in my battle with the bulge - losing 145 pounds.  Then, the focus shifted from losing to weight to maintaining - which is a whole new mindset, I discovered.  In addition to healthy food choices, good old-fashioned sweat, and great advice and follow-up from my weight loss coach, one of the things that's helping me keep it off is my mobile phone.  Here's some of the best apps I've tried to help keep off the pounds and live a healthy lifestyle:
MyFitnessPal.   For me, this has been the gold standard so far - a pretty handy all-in-one (free) app to keep up with my food intake, exercise, and monitor progress on a daily/weekly basis. You give the app some basic info (height, weight, activity level, etc.) and tell it what you want to do (maintain, lose x amount per week, gain).  It'll give you some daily calorie goals, and you can track progress as you enter foods, activities, exercise, water intake - you can also invite and communicate with other users from within the app and allow each other access to your food & exercise diaries, so you can involve friends and have some workout/diet buddies, which I like (keeps me more accountable).  Careful, some of the foods are user-submitted and subject to inaccuracy - so read your labels and do a little comparison to make sure you're on the right track - but this is a really, really handy tool to stay on track.
AppsGoneFree.  Disclaimer, this isn't really a workout app - it's an app that alerts you to free apps.  Occasionally, as developers try to build a little buzz or move up in the rankings, they'll take something that was formerly a paid app, and make it free for a short time.  This app scours the store and lets you know the moment that takes place, with a cool daily digest of what's out there.  You have to act quickly to catch the best apps, but you'll find a lot of great freebies here - including several on the health/diet/fitness side of things.
MapMyRun.  THIS is pretty cool, if you've taken up running as part of your exercise routine, like me.  If walking, biking, hiking, or just general exercise is more your style - they also have companion apps MapMyWalk, MapMyRide, MapMyFitness (which I haven't experimented with yet).  For me, MapMyRun has came in very handy for tracking outside of treadmill-type scenarios, where there's nothing to monitor your pace, calorie burn, incline, etc.  It uses GPS technology to pinpoint and track your routes - which you can keep record of as you try to improve time/intensity, even compete with friends on the same routes.  Comes with a voice that alerts you as you go to pace, time, distance - which almost feels like you've got a trainer in your pocket along for the journey.  I've used it on both runs and walks - took it on the Bridle Trail the other day and it kept up great with the dramatically changing inclines and speeds that terrain like that brings.  Good stuff.
21KRunner.  There's a few versions of this app, whether you're trying to train for a 5K, 10K, full marathon - this particular one I caught as a freebie with the intention of using it to train for my first half-marathon.  I ended up cutting to the chase and running the half-marathon earlier than expected, due to being a little farther along in the training process than this app was designed for.  However, it's a great app that deserves a mention - if you're already comfortable running a 5K, this will train you slow and steady to take it from there and eventually build to a half-marathon. (I'm trying to get up the courage to tackle a whole marathon next - after a lot more hot tub visits.  Ouch.)
Low GI Diet Tracker.  On the advice of Sheryl, my weight loss coach at Ideal You, I grabbed a paid app to begin to look at the glycemic index of foods I was eating - which helps me narrow down better choices as I'm maintaining my weight and trying to avoid foods that are counter-productive.  It's easy to tell whether an apple or a piece of chocolate cake would be the healthier choice - but what if you're deciding between an apple and a banana?  This app is another food tracker that keeps up with carbs, calories, but also your glycemic load - so far, I'm not using it to its full potential due to my preference for MyFitnessPal, but it does come in handy when I'm hunting a new snack and want to do a little research.
That's just a sampling of what's currently on my iPhone (some of the above may or may not have an Android counterpart, but I believe most do) - and of course, goes without saying that I use radio & music apps like RadioPup, Pandora, and Spotify to help provide a little soundtrack fuel to my gym visits and outdoor runs.  There's a million other ones I haven't discovered yet, I'm sure.  Got any recommendations?