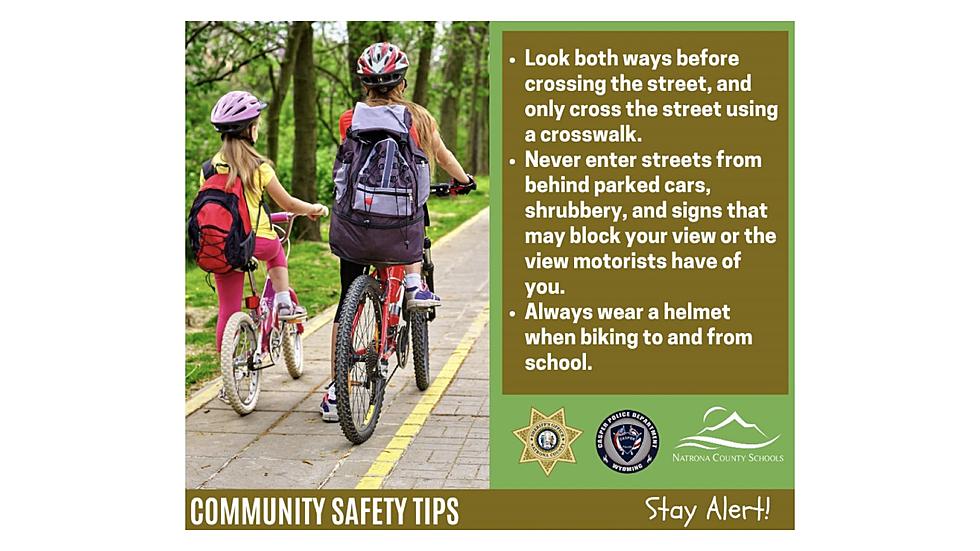 Natrona County School District, Sheriff's Office Share Safety Tips
Natrona County School District, Natrona County Sheriff's Office, Casper Police Department
Spring has sprung, and the Natrona County Sheriff's Office and the Natrona County School District are sharing safety tips for motorists and those enjoying the outdoors, according to a press release.
Motorists should be aware of school zones; obey traffic laws; and be vigilant of students walking home from school, pedestrians in crosswalks, and cyclists.
"Never drive distracted, and it is always a good idea to plan extra time on commutes to arrive safely at your destination," Sheriff's Office spokeswoman Kiera Grogan said.
Pay careful attention to school zones, bus stops, stop signs and other traffic indicators to keep students walking, riding, busing or biking to and from school.
School bus stop sign awareness: Red means stop, both flashing lights and/or the stop sign on the bus.
"Whether you are in front of or behind a school bus, if the red flashing lights are on or the stop sign is out, you must stop," School District spokeswoman Tanya Southerland said.
Talk to your children about recognizing and obeying traffic signals, signs and pavement markings.
Always look both ways before crossing the street. Cross the street using a crosswalk.
Never enter streets from behind parked cars, shrubbery, signs and other objects that may block your view or the view motorists have of you.
Walk and never run across intersections.
The Sheriff's Office, Casper Police Department and the School District partner daily to ensure the safety of students and the community, the press release says.
Wyoming Welcomes 22 New Citizens at Naturalization Ceremony
Lemonade Day Kick-Off. 5/3/23
Lemonade Day Kick-Off. 5/3/23