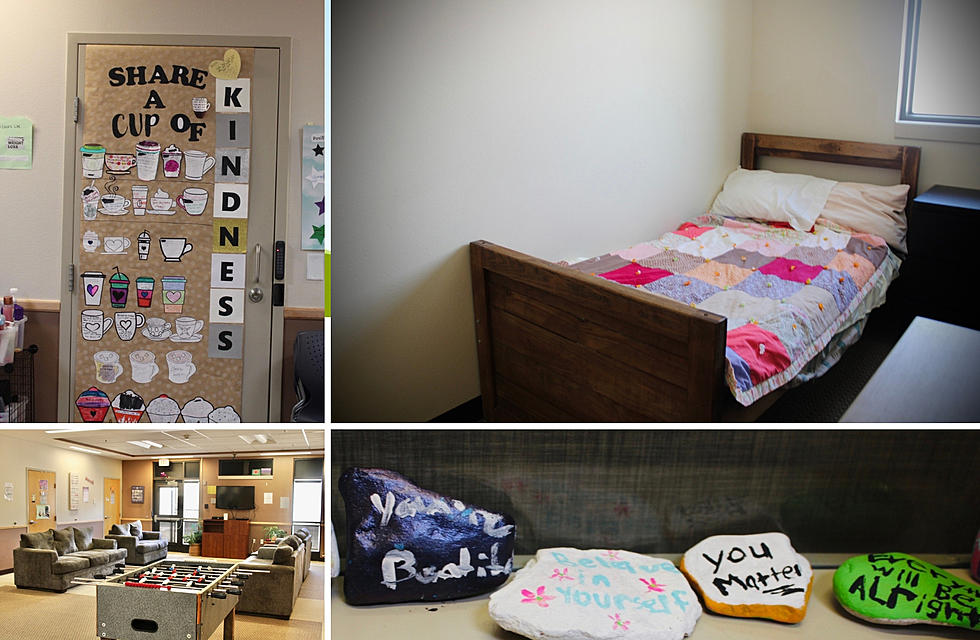 PHOTOS: A Walk Through Casper's Youth Crisis Center
Casper Youth Crisis Shelter Kolby Fedore, Townsquare Media
In our most recent podcast episode of Report to Wyoming, K2 Radio News talks to the Executive Director at the Youth Crisis Center along with Program Manager Cheyanne Hiatt and Administrative Coordinator Lynne Sweazy.
The Center is coming up on its 40th Anniversary. We chat about all the things they're doing to help provide emergency shelter to youth in our community.
Right now they are licensed for roughly 25 beds, divided into different wings.
There's the crisis shelter where kids stay, on average, about nine days.
The crisis shelter is a short-term place for children up to 17 years old that provides a safe place for kids when they cannot stay at home.
The other wing is the group home. Kids' average stay in the home typically ranges from four to nine months depending on their situation.
Hulshizer tells me that law enforcement brings kids in almost every day.
"We're usually always full. We're seeing a lot of court placements as well. There's your capacity and what you can actually do based on staffing. We have to maintain certain resident-staff ratios, which is dependent on funding for staff. We have to have X-amount of employees to do things. We're a facility that's open 365 days a year, 24-7. If you show up at 1:00 a.m. there's staff to do an intake and give youth a place to stay." They're also a completely free service.
Kids are provided with three home-cooked meals everyday along with snacks.
As a retired Sheriffs Deputy in Natrona County and a longtime investigator, Hulshizer can remember numerous times when he had to take custody of an at-risk youth.
"I'm going to tell you that coming from a law enforcement background, when you walk into a home and you open the refrigerator and you see what some of these kids have available - or don't primarily have available to eat - you'll understand why our food service is so important to us because we want kids to come here and know that they're going to get fed really well. They're going to get nutritious food and comfort food. They're not going to have to worry about whether they can get seconds [or not]. We want that to be the least of their concerns."
In September they launched an outreach program to help spread awareness to parents and kids about their services. Hiatt explains that they've put together backpacks to give to families who may be experiencing homelessness. They try to fill them with as much as possible: food, toiletries, a blanket, hat, gloves, and clothes.
They've changed YCC's focus to helping provide clinical programs, social/emotional programs, and life skills to youth through the empowerment of achievement, wellbeing and belonging versus the punitive model.
Mental health is a big concern for them.
"In Casper, we're starting to see a large amount of fentanyl in the schools" says Hulshizer. "We've moved away from the juvenile justice model of punishment and towards a clinical environment that offers behavioral training, mental health support, and social support..."
He adds that, "substance abuse is not only a seen and learned behavior, but it's also an addictive situation for a lot of these kids. Oftentimes when kids come to us they not only have a mental health concern, but there's oftentimes a substance abuse portion of that, maybe it's vaping, maybe it's alcohol, maybe it's drugs of some kind. Or maybe their parents have substance abuse issues and it all sort of wears down on those kids, it's like stacking bricks on their backs, and eventually that load gets really heavy."
A Walk Through the Youth Crisis Center in Casper
Children's Advocacy Project Pinwheels for Abused Children
In 2008, Prevent Child Abuse America introduced the pinwheel as the new national symbol for child abuse prevention. Why? Because by its very nature, the pinwheel connotes playfulness, joy, and childhood. It has come to serve as a physical reminder of the great childhoods we want for all children.