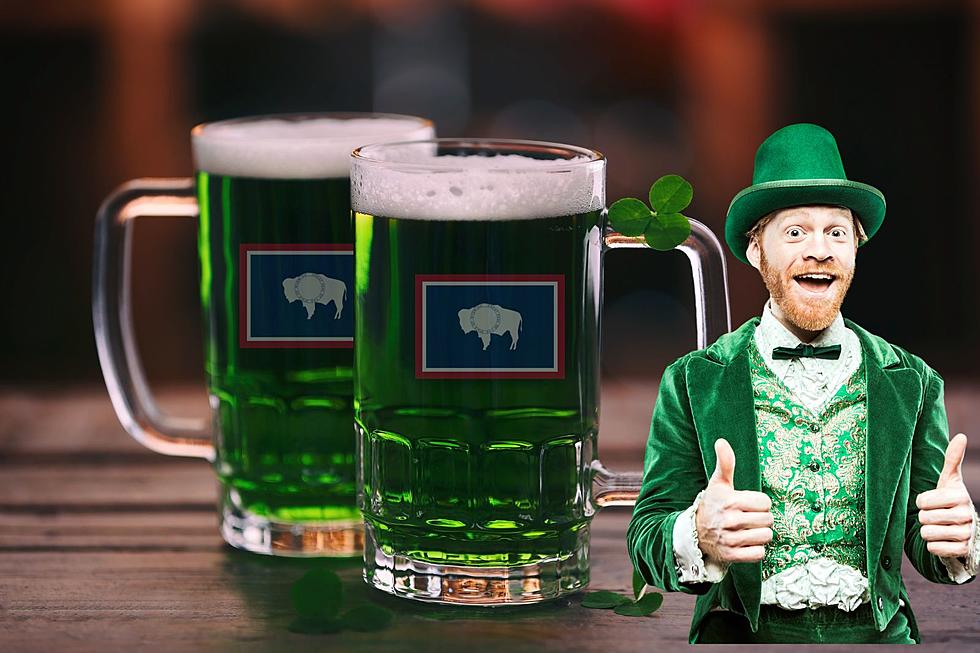 Want Your Own Green Wyoming Beer To Celebrate St. Patrick's Day?
CANVA
All over Wyoming there are celebrations for St. Patrick's Day. Parade's, dancing, drinking, eating, wearing green and pinching those that aren't wearing green.
The reason we celebrate St. Patrick's Day is, March 17th is the traditional death date of the patron saint of Ireland, St. Patrick. It's been celebrated since the 17th century and since it falls during lent and the holiday is observed by many religions, including catholic, the lent restrictions were lifted for the day.
If you're in the mood for a party, St. Patrick's Day is the perfect day for you.
Corned Beef and Cabbage, Soda Bread, Irish Stew and Shepherd's Pie are all foods that you'll find being prepared and offered for the celebration. Also, drinking is a BIG part of the St. Patrick's Day celebrating, that's not even something that people use for an excuse to drink.
If you're a drinker, what tradition is more St. Patrick's Day than drinking green beer? Bars all over Wyoming will be offering up the green suds, but what if you're planning on celebrating at home? The corned beef and cabbage is in the crockpot, the bottle of Irish Whiskey is on the counter and your beer in just normal...gasp...you need to remedy that, stat!
Wyoming is home to many fantastic breweries and surly you have your favorite. Most every brewery has a beer that you can turn green to drink for St. Patty's Day.
The process is quite the dedicated science project, but with a little bit of will, you can do it.
Ok, that's not really the truth...it takes approximately 30 seconds to do it.
I know you thought it was a special kind of brew that beer companies did that took months to prepare. In reality, you can do can turn your favorite light beer green in the DROP of a hat.
Get ready...
The big reveal is here...
Here are the highly detailed steps to turn you beer green...
Head out and buy your favorite, light colored, beer from your favorite local Wyoming brewery
Stop by the grocery store and go into the baking isle.
Buy Green Food Coloring
Go home and get your favorite glass beer mug
Add 2 to 3 drops of food coloring to your mug
Pour your cold tasty beer into the mug
That's it.
The BIG secret is revealed.
2-3 drops of food coloring will turn any light colored beer green. If you put the food coloring in first, there's no need to stir, pouring the beer in should stir it up enough. If you put the food coloring in after pouring, you may need to stir. Either way, watch the color changing magic work, then drink it.
The best part is that you can support local and buy a locally brewed light colored beer and turn it green.
8 Things You Need in the Holiday Spirit of St. Patrick's Day
8 Things You Need in the Holiday Spirit of St. Patrick's Day
15 Items You Should Never Dye Green
St. Patrick's Day is just around the corner and you may have the urge to run to the store and buy a box of green dye just to make something extra fun this holiday. But, there are a few things that maybe you should just leave the way they are.