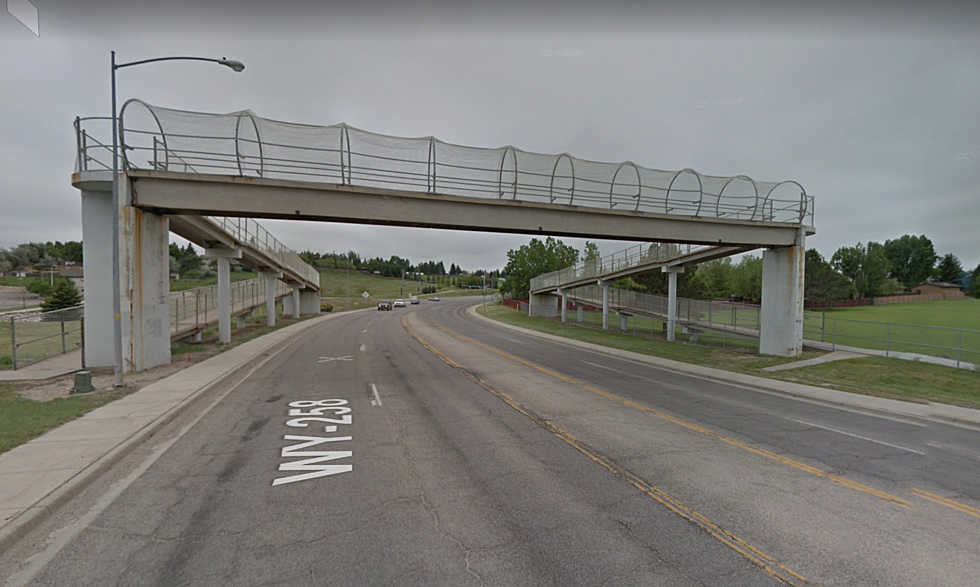 Casper to Repair Wyoming Boulevard Verda James Footbridge
Google Maps
The Casper City Council at its meeting Tuesday allocated nearly $400,000 to repair the footbridge over East Wyoming Boulevard near Verda James Elementary School.
City Manager Carter Napier said school officials and a young attendee of a council meeting had raised questions safety issues with the Verda James pedestrian overpass.
City staff and a structural engineer inspected the bridge and determined serious repairs were needed although they weren't needed immediately, Napier said.
"Indeed, for the longevity of the structure and the continued confidence of the public that used the facility, that perhaps some work should be invested in the facility," he said.
The council decided to look at a 30-year solution instead of a 10- or 15-year solution, Napier said.
The repairs include replacing the existing precast concrete structural spans with steel-framed spans.
The city received four bids for the project. TDS Construction -- Transmission Distribution Service, LLC -- of Glenrock submitted the low and winning bid of $387,508.86.
The project will be paid from the budgeted Optional One-Cent Sales Tax No. 15 allocated to overpass repairs and remaining funds from the Optional One-Cent Sales Tax No. 14.
The finish date is Aug. 31, according to the contract.
The council approved the allocation on its consent resolution agenda.
These were the other consent resolution agenda items:
An agreement with Casper Electric, Inc., for $68,120 to upgrade the lighting in the downtown parking structure.
An agreement with Wayne Coleman Construction, Inc., for $283,520 for the Casper public utilities asphalt project.
An agreement with 71 Construction for $80,800 for improvements to the Casper Regional Landfill sanitary sewer.
A contract for professional services for $50,000 for the Interstate 25 and Casper Marginal beautification project.
Rename Parkway Plaza Drive to West E Street. This reverses a previous city council decision when the CRU Casper, the former owner of the Parkway Plaza asked to name the street Parkway Plaza Drive. The hotel closed in October and the new owner asked the city to revert to the former name.
A contract between the city and the Natrona County Travel and Tourism Council for group ticket sales to the College National Finals Rodeo.
A change order for Treto Construction, LLC, for $132,215.44 for the reconstruction of Midwest Avenue from Elm to David streets.