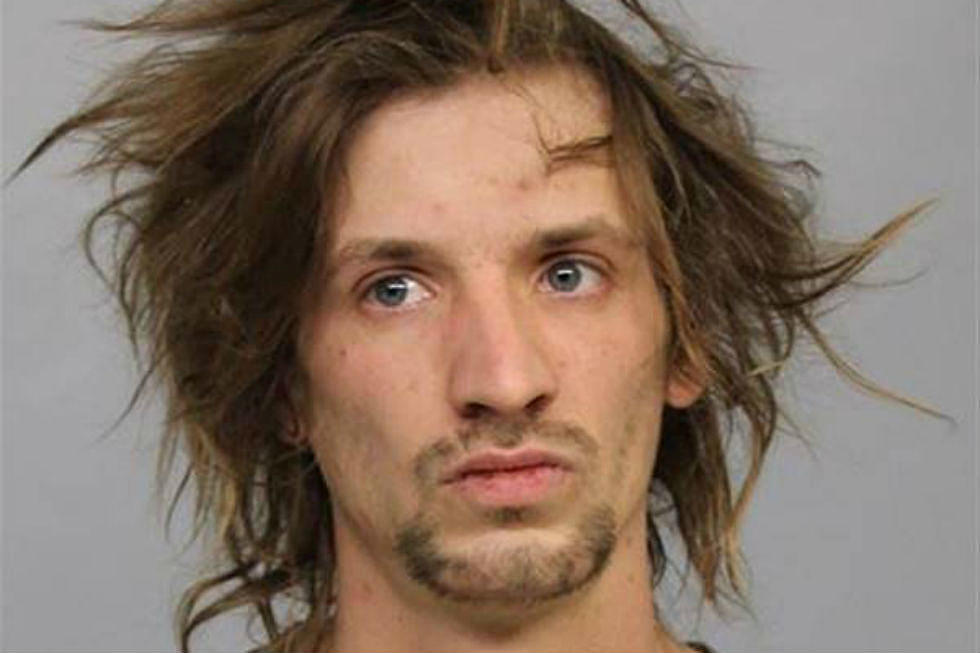 Police: Casper Man Broke in to Steal Parents' Money, Shot Mother
Casper Police Department
The 27-year-old Casper man accused of fatally shooting his mother after breaking into her home early Tuesday morning allegedly admitted that he intentionally shot her.
Court documents filed Wednesday state that Andrew Wayne Steplock, after being arrested in northern Colorado late Tuesday, told detectives he went to his parents' home early that morning in order to steal their money.
When he encountered his mother, 58-year-old Deborah Steplock, she asked him what he was doing.
According to an affidavit, Andrew Steplock told detectives, "...he walked up to her, pointed his gun in her face and shot her."
Steplock then checked in the den for his father, didn't see him, and drove away in his mother's Toyota.
Casper police officers responded to Steplock home in the 100 Block of E. 10th St. at roughly 1 a.m. Andrew Steplock had triggered a security alarm when he broke a window in the rear exterior door in order to enter the house, and police were notified of the alarm.
While police officers were en route to the house, Deborah Steplock's husband, Albert, called 911. He told officers that he had gone to bed at 11:30 p.m. and Deborah Steplock, after helping him to bed, returned downstairs to continue relaxing.
He was awoken by the security alarm and went downstairs to see what was going on. There, he found his wife lying unconscious near the front door and realized she was bleeding from her head. He then called 911.
He also told police that the back door, which was usually secured at that time, was open. He further said that the overhead garage door was open, which was also unusual.
Deborah Steplock was taken to Wyoming Medical Center and was declared brain-dead at 1:38 p.m. Tuesday. She was placed on life support until her organs could be harvested, in accordance with her wishes.
Investigators spoke with family members and learned that on Monday morning, Andrew Steplock had gone to his parents' house and gotten into an argument with his mother. He wanted money, and his mother told him she would give him money if he cleaned up dog feces in the yard.
Weather made the task difficult, the affidavit states, but Andrew Steplock asked for the money anyway. His mother gave him a small amount of money.
While Andrew Steplock showered at the house, his mother took his key to the house off of his keyring. She replaced it with a fake key. She didn't want him to have access to the house, but didn't want him to know she had taken his key.
Deborah Steplock then told her son he was no longer welcome at the home unless he was invited.
On Friday, Andrew Steplock was arrested for possession of a controlled substance. At the time of his arrest, police officers noted he was in possession of a handgun.
On Tuesday, once Deborah Steplock was hospitalized and the police investigation was underway, Andrew Steplock's sister called him at roughly 5 a.m. She had to call several times before he answered, and she told him he needed to go to the hospital to see their mother. Andrew Steplock reportedly acknowledged that information, but refused further contact with family members.
Police used cell phone data to determine that Andrew Steplock had been "in the path of the crime scene," according to the affidavit, when the home alarm system was activated at 12:56 a.m.
Two detectives traveled to Colorado and, working with Colorado law enforcement officers, located Deborah Steplock's Toyota Rav4, which Andrew Steplock was known to have been driving, at a Love's fuel station off of I-25 and Highway 56 in Loveland, Colorado.
Andrew Steplock was arrested without incident and told officers that he had a gun inside the Toyota. After he was taken to a local police station and officers read Steplock his rights, he reportedly agreed to speak with the detectives.
Steplock told officers that when he went to his parents' house early that morning, he attempted to use the front door. However, his key didn't work. Instead, he went around back and broke through the back door, using a key left inside the deadbolt to enter the home.
"When he got back to his vehicle [immediately after the shooting], he realized he had cut his left middle knuckle and was bleeding," the affidavit states. "Andrew Steplock became panicked and started driving. He drove to Cheyenne, Wyoming then onto [sic] Colorado. He stopped in Colorado and decided to turn around and return home."
As he drove northbound, he stopped in the gas station parking lot and fell asleep. That's where he was later arrested.
The Natrona County District Attorney's Office charged Steplock with second-degree murder, aggravated burglary and possession of a deadly weapon with unlawful purpose.
He could face up to 50 years in prison if convicted of all charges.
As of Wednesday, Steplock was being held in Colorado pending extradition back to Natrona County to face the charges. He could agree to be extradited, or could resist being taken back to Wyoming and fight the effort in court.