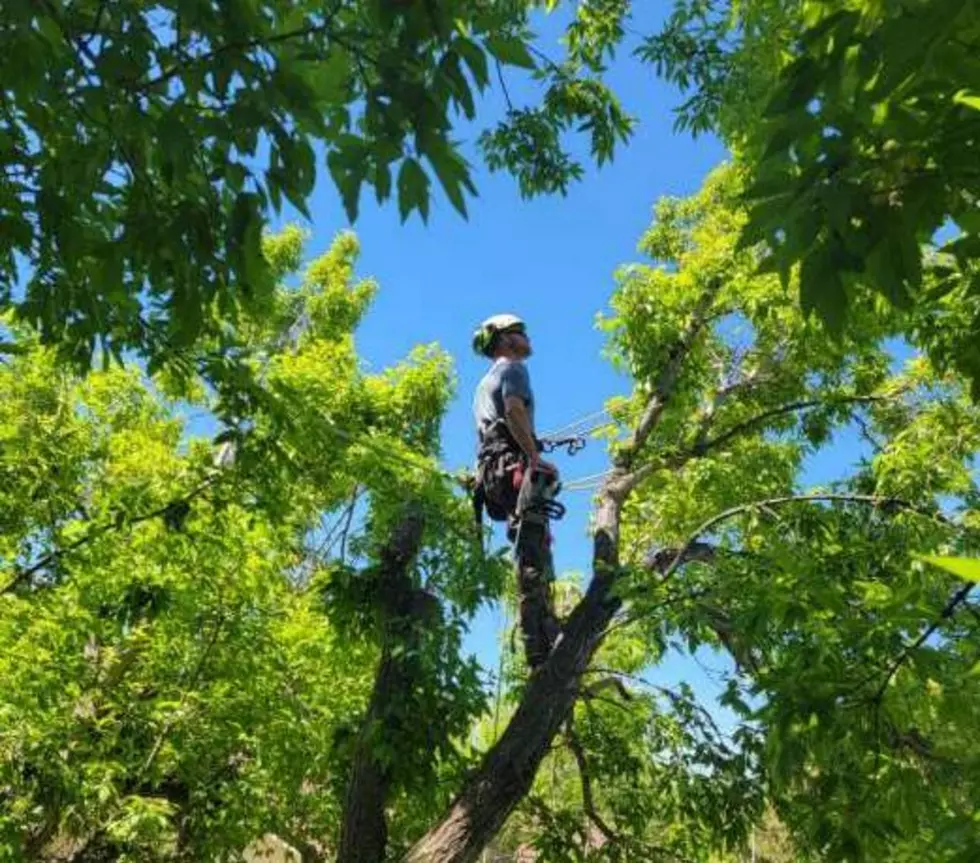 VIDEO: Off-the-Clock Arborist Rescues Cat From High Atop a Tree
Photo Courtesy of Alexander Jennings
Alexander Jennings has never met a tree he hasn't wanted to climb.
That's how it was when he was a kid, and that's how he is now. Some people have mountains, others have trees. The metaphor is the same.
Which is why when Jennings (known to his friends and coworkers as 'AJ') saw that a Casper family were in desperate need of help to get their cat (whom we've named Mr. Whiskers) out of a tree, he swung into action.
AJ is an arborist. In fact, he's the Crew Lead for All Trees LLC, a tree care provider in Casper.
AJ started working with trees long ago, just for fun. But years ago he began doing it professionally in the Black Hills of South Dakota.
"I had quite a bit of trigger time up in the Black Hills, dropping pines, doing fire mitigation, just making the forest safer, pretty much," AJ told K2 Radio News. "Then, four years ago, I came to All Trees and, well, now I'm doing great. So is All Trees."
He's not wrong. All Trees LLC has built a reputation as a customer-focused tree care company. They offer tree trimming, tree health care, tree removal, snow removal, and more.
In fact, earlier in the day, AJ was in Douglas doing snow removal. He woke up at 1am Wednesday morning and spent the early morning and afternoon hours on a snow removal job. When he got done with that, he was supposed to come home and get some sleep.
"I was trying to go to sleep because I was out in Douglas all night," AJ said. "But I had an energy drink on the way back home, so I couldn't sleep. I was scrolling through Facebook and I saw the story post and saw that firemen and police officers couldn't help because of insurance and all this, and that another company was gonna charge over $150. I thought, 'You know what, I'm not gonna go to sleep. I'll just go climb a tree and get a cat.'"
So, that's what he did.
Previously, K2 Radio News reported that, according to Casper resident Janice Dvarishkis Miech, her granddaughter's cat is typically an indoor cat. But the cat got out of the house yesterday and immediately began scaling a large tree.
"We just thought it would eventually come down," Janice told K2 Radio News. "I went over there earlier and the cat decided to climb a little bit higher and now it looks like it can't turn itself around to come back down. We've tried food, we've tried everything."
Read More: Casper Family Needs Help Getting Cat Out From Top of Tree
The cat was not coming down. Miech stated that she had reached out to various  agencies. Casper Fire-EMS even came to their home to assess whether they could help or not. They couldn't, without damaging the tree or the home.
The cat, according to Miech, had been in the tree for more than 24 hours. The nights were cold. One more night may not have been survivable for an inside cat. They were getting desperate.
And that's where AJ came in.
In all honesty, AJ was pretty blase about the whole ordeal.
"I climbed a tree that was improperly pruned 10 or 20 years ago," he scoffed.
But the ascent itself was a piece of cake.
"I climb trees like this every day," he stated. "I'm the crew boss for All Trees and I'm in charge of training most of the people. We've been doing aerial rescue training recently, so I just figured, 'I'll go do that.'"
And he did. He climbed the trees effortlessly, a cat himself. When he reached the right level, the real trick was convincing the cat to come to him.
"At first, you've just gotta really talk them down," he said. "They're scared up there, A large, unidentified animal and all. So if this large animal climbed the tree after them, they get a little sketchy. But you just talk to 'em, calm them down, climb out far enough to let them smell your finger and get a little rub; then they usually calm down."
The entire process took about 5 minutes. The cat finally came to AJ, and AJ descended the tree. Then, he took the cat into the house, and the owners opened the bag to take the cat out of it.
He was safe. He was loved. He was home.
And it's all because of Alexander Jennings.
"That's what All Trees is about," Jennings said. "Integrity, attitude, and work ethic. Those are the main things we care about at All Trees as far as employees go."
On this day, that's exactly what Jennings exemplified. But he didn't do it as an employee. In fact, Jennings was technically off the clock. He wasn't there to do a job. He didn't even charge the family (though they did end up giving him $50 - a small price to pay for getting Mr. Whiskers returned to them). He didn't do it because he was trying to excel in his job. He didn't do it because his boss told him to. He certainly didn't do it for the news story ("I was hesitant to even talk to you," he said. "I told my boss no. But I'm glad I did talk to you"). He did it, simply, because it was the right thing to do.
AJ hasn't always had an easy life. He has stories that could make a grown man cry. And he could have let that life devour and destroy him. But he didn't. He chose to live his life with character, with integrity, and with kindness.
His boss sees that, every single day.
"AJ got up at about 1am this morning to drive to Douglas to do snow removal," said Ryan Wenger, the owner of All Trees LLC. "So he really pushed himself to do this for these people. He is super reliable. No matter what, he will give you a helping hand and ask nothing in return. AJ is the type that, no matter how much you pay him, it never seems to be enough."
Because he's worth so much more.
Days like today prove that.
The motto for All Trees LLC is 'Changing lives, one tree at a time.' And today, for one Casper family, that's exactly what AJ did.
Video of the cat rescue can be seen below:
Esterbrook, Wyoming Fall 2020