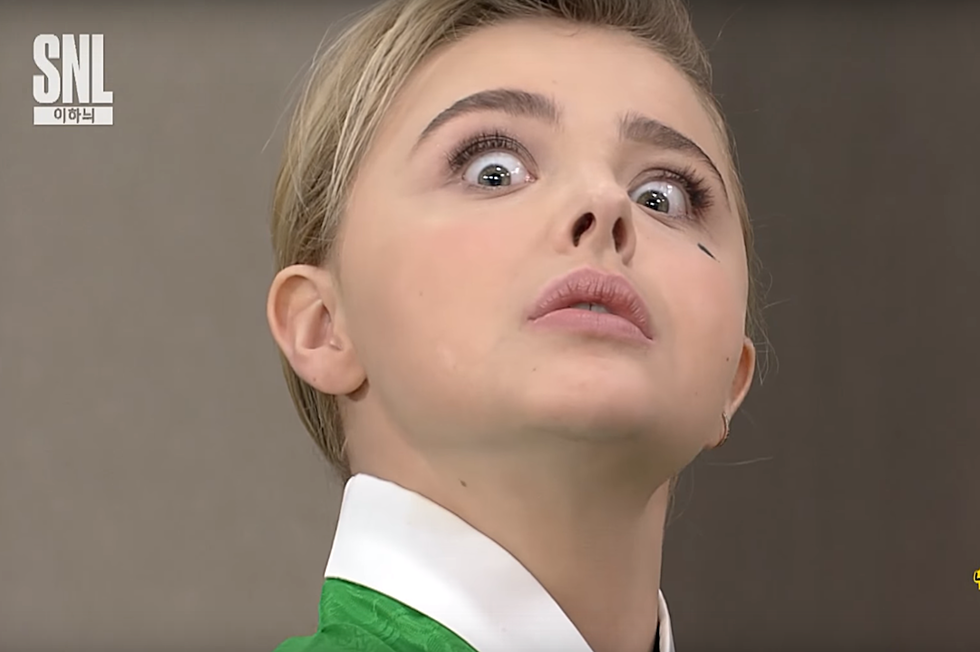 Chloe Grace Moretz Makes History as First American Guest on 'SNL Korea': Watch
YouTube
While in South Korea to do promo as the brand ambassador of Sudden Attack, a first-person shooter multiplayer PC game (you can watch her play the video game for a half hour, if you'd like), the actress also became the first American guest on SNL Korea over the weekend in a hilarious Korean language skit alongside comedian Yoo Se Yoon involving a daughter-in-law who's seen one too many K-dramas in her lifetime.
Wearing a traditional hanbok, the 5th Wave star keeps on hilariously mistaking what's being said at the table during the sketch, dramatically overreacting to each word and taking offense to everything: Drinks go flying, juice goes dribbling out of her mouth — and yes, even an innocent cabbage gets ravaged in Moretz's messy path of destruction, as she slaps Yoon with the, um, unconventional weapon. (Fun fact: That's a parody of a famous scene from Everybody, Kimchi!, according to AllKPop.)
Even if you can't understand a single word they're saying (subtitles for the international fans, please!), it's fun to watch Chloe really committing to the role and acting in another language — and rather convincingly so.
"Exciting to be the very First American on SNL Live and to speak in only Korean!!! #Korea #KimchiSlap #NOWOLSAEEE," she wrote on Instagram yesterday.
She wasn't just having fun on screen, either: Chloe also basically lived out every K-pop lover's dream while in Seoul, meeting SHINee's Taemin and K-pop girl group troupe MAMAMOO. (Cue gleeful meltdowns from the online K-pop community.)
Here's hoping she finally gets to meet CL on the next trip.